History
Origin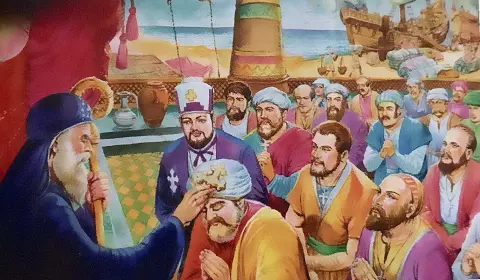 Knanaya Community is formed 1700 years back in Kerala with the arrival of Thomas of Cana in AD 345 with a group of people from Mesopotamia. Mar Knai Thomman (Thomas of Cana) was a merchant who had business with Kerala at that time. With his leadership, 72 families with around 400 people migrated to Kerala to spread Christianity. The group included Bishop Urhah Mar Yousef and some priests. 72 families were from the 7 tribes of Israel (Bagi, Belkuth, Hadi, Kujalig, Koja, Mugmuth, Thegmuth)
They came to Kodungallur (Thrissur district). Cheraman Perumal was the King at that time and he welcomed the new immigrants with 72 privileges engraved in a copper plate which is called Knai Thomman Chepped.
The new immigrants settled in the southern part of Kodungallur, so they are called 'Thekkumbhagar' or 'Southists'. One of the missions of the immigrants was to strengthen the native Christians lived at that time. Most of the native Christians lived in the northern part of Kodungallur and they are called 'Vadakumbhagar' or 'Northists'
Portuguese Arrival
Knanaya community remained in contact with eastern church based in Syria until the arrival of Portuguese in the early part of AD 1500. Portuguese, who were part of western church, actively promoted the Latinization of Christianity in Kerala. With mounting tension and other political reason, most of the Knanaya people left Kodungallur and migrated to middle part of the Kerala (Udayamperoor, Kaduthuruthy, Kottayam, Chunkom, and Kallissery).
With high political power Portuguese got from King of Kochi, Portuguese brought most of the Knanaya people under Western church, ruled by Pope. Some were unhappy with rule of western church and tried to get a Metropolitan from the Eastern Church to re-establish their freedom to control the church through Arkadiyokans (A layman leader in the church) using the Law of Thomas (Thomayude Margam).
Koonan Kurisu Sathyam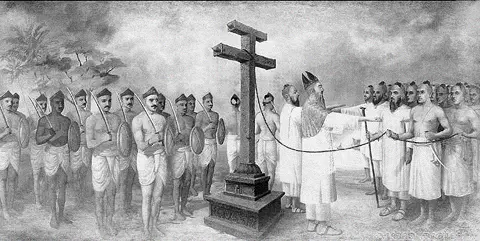 Portuguese successfully prevented getting a Metropolitan from Eastern Church and killed Mar Ahatulla Bava, a representative from Eastern /Syrian church. This and other dissatisfaction of Latinization caused thousands of native St:Thomas Christian and Knanaya community people to assemble at St Thomas Church at Mattancherry on 3rd JAN 1653 under the leadership of Arkadiyokan Thomas. Since everyone could not touch the Stone cross in front of the church, they put a large rope around the cross and everyone hold the rope and took the oath "till the end neither the Thomas Christians nor their generations would obey the church of Rome or the Portuguese bishops, but only obey their traditional leader Arkadiyokan". The cross bent under pressure and so this oath is called "Koonan Kurisu Sathyam (Leaning Cross Oath)"
Knanaya Community Split
With this oath, part of Knanaya people went under the rule of Syrian Church and they are called Knanaya Jacobite community. Others under the rule of Roman Pope is called Knanaya Catholic Community. Since each community is originated from same original Knanaya community, both communities are allowed to marry from each other and still be part of the Knanaya community. In 1920, a part of Knanaya Jacobite joined majority Knanaya catholic by keeping their Malankara tradition of praying. They are called Knanaya Malankara Catholics.
Establishment of Kottayam Diocese
Knanaya Catholic community shared many churches with native St:Thomas catholic community since the establishment of Roman catholic rule even though Knanaya community had different culture and practiced endogamy. This created tension between these two communities, and it became hard to rule the population. Both side petitioned Rome to split these two communities to manage without conflict. In 1911, Pope Pious Xth established Kottayam Vicarate and later it become Kottayam Arch Dioceses for Knanaya Catholic community.
Current State
With modern transportation and need for skilled workers in many parts of the world, Knanaya people migrated to many countries now. Even though Kottayam dioceses was established for Catholic Knanaya people, its jurisdiction is limited to India only. With establishment of Syro-Malabar diocese in many countries, Knanaya people came under different Syro-Malabar diocese in various countries. Even though Separate churches are allowed for Knanaya Catholic community, people are unhappy to remain in a non-Knanaya diocese. Many Layman organization are formed to bring together whole community under one roof.
Knanaya Community remained intact with its culture and genetic by following endogamous marriage practice within the community for last 1700 years. One of the reasons might be to keep community's Jewish-Christian lineage. This is a miracle that community could survive and practice its culture and grow for more than 17 centuries. It is a unique community and we do want to continue it existence as long as it can with help of technology. Since community is spread across many countries, it created many challenges to keep the community together. KnanayCommunity.org is an attempt to connect community through technology and make its survival possible as long as there is "Sun and Moon" as famously quoted by our Bishop Mar Kuriakose Kunnacherry.